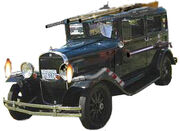 Twisted Metal contest
A group of Russian mobsters led by Johnny Irons steal an antique Chevorlet Master Fordor and added armor and weapons to it and decided to enter the contest
Characters' info
&nbsp A Russian Mob with a stolen antique car with modifications enters to have control of all of the cities in America and Russia.
Vehicle
Armored 1930's Chevorlet Master Fordor.
Primarily Weapons
Two modified Browning M1917 machine guns.
Secondary Weapons
Two Lewis machine guns and two Browning M1919 machine guns on the turret.
Special: Vodka Thrower
An improvised flame thrower fueled by Vodka.
Ending